The Radio Museum in Gothenburg had, as usual, a radio repair workshop and an exhibition of some of our radios at Gammelvala 2013 (the olde worlde). This year we had a new room in the barn, along with a collection of old farming tools and household appliances, all of which seemed to be much older than most of our appliances!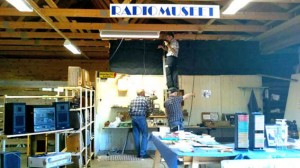 Here Lennart Nilsson, Christer Aronsson and Ulf Nilsson installing electric cables the first day.
Here below is the exhibition layout, with appliances to the left, sales counter with books and CDs and so on to the right, and the radio repair shop at the back.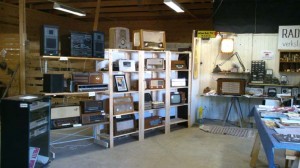 This year we had with us a model of an electronic valve, which was interesting – we always have a poster with a picture of valve design, but it is a little more apparent when you see a model. It is located on the counter here, beside a very fine 50s radio that was in use all the time, and a smaller radio with the back panel removed so our visitors could see the inside.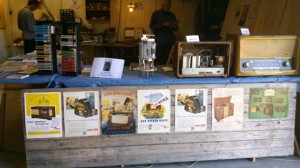 10 of our members came up during the week and guided round the exhibition, repaired radios in the repair shop, or both. This was a great help.
A lot of people came in to the radio repair shop. We were given some really fine radios for our collection in Gothenburg and we enrolled several new members. A successful week for the Radio Museum!
GRIMETON
The following message was successfully transmitted on Sunday the 30 of June from Grimeton!
CQ CQ CQ DE SAQ SAQ SAQ =
THIS IS GRIMETON RADIO/SAQ IN A TRANSMISSION USING THE ALEXANDERSON 200 KW ALTERNATOR ON 17.2 KHZ =
TODAY WE REMEMBER ONE HUNDRED YEARS AGO WHEN THE FIRST REGULAR TIME SIGNAL FOR SHIPPING ETC WAS TRANSMITTED VIA ARLINGTON RADIO/NAA AND VIA EIFFEL TOWER/FL.
SIGNED: THE ALEXANDER-GRIMETON VETERANRADIOS VAENNER ASSOCIATION AND WORLD HERITAGE GRIMETON+
FOR QSL INFO PLEASE READ OUR WEBSITE: WWW.ALEXANDER.N.SE =
DE SAQ SAQ SAQ @
The Radiomuseum of Gothenburg
Anders Carlssons gata 2
SE-417 55 GÖTEBORG
Tel: +46 31 779 21 01
E-Mail: info@radiomuseet.se
Opening hours: Monday Closed, Tuesday 12-15, Wednesday 12-20, Thursday 12-15. Friday 12-15, Saturday and Sunday 12 to 15 with the exception for larger holidays when the museum is closed.
 By request, other opening hours can be arranged.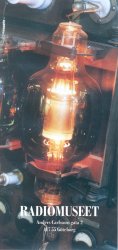 Click on the picture to read our English brochure. (PDF)